We only sell full containers to Pakistan. The current estimated cost is $2,700 USD for a 20′ container and $3,500 USD for a 40′ container. Please contact your local dealer for individual orders.
Translate this page using the Google Translate feature on the right.
The fitness equipment market is growing in Pakistan and we're sure many gym owners and equipment dealers would love to get in the action. We supply gym-quality used fitness equipment to Pakistan and we've shipped many containers overseas. Our logistics and warehouse team will ensure that your exercise equipment arrives in a timely manner and we take care of all shipping and logistics details on our end. We have experience shipping to Pakistan and have sent many containers. Pakistan is actually one of our top countries to import gym equipment to. Primo Fitness has been servicing international clientele for over 40 years and we have built a solid reputation with all of our customers overseas. We strive to provide you quality prices and discounts for all of your used gym equipment. Select from our huge inventory that includes: used treadmills, used ellipticals, used exercise bikes, used strength equipment, used steppers and used stepmills, and others that best fits your needs. Browse through all of the different types of machines that we have available and prepare a list of all of the equipment that you would like.
If you are in Pakistan and are interested in commercial grade fitness equipment, please give us a call at 1-714-957-2765 or email us at [email protected]. We can provide a price sheet and shipping information.
Dealers are also welcome to contact us. Even if you are looking for just one piece of equipment, we can help.
Gym Packages (we also build custom packages and can modify these ones) (contact us for pricing):
Complete Gym Package 1 (34 Pieces) (Cybex VR2 14 Piece Strength Line, 10 Precor 956i Treadmills, 5 Precor AMT 100i Elliptical Crosstrainers, 5 Precor 576i Elliptical Crosstrainers) 
Precor Icarian and 885 Cardio Gym Package (40 Pieces) (Precor Icarian 20 Piece Strength Line, 5 Precor 885 TRM Treadmills, 5 Precor 885 EFX Elliptical Crosstrainers, 5 Precor 885 RBK Recumbent Bikes, 5 Precor 885 UBK Upright Bikes)
Cybex VR3 and Precor Cardio Gym Package (27 pieces) (Cybex VR3 16 Piece Strength Line, 2 Precor AMT 100i Elliptical, 2 576i Elliptical Crosstrainer, 3 Precor TRM 833 treadmill, 2 846i Exp Upright Bike, 2 846i Exp Recumbent Bike)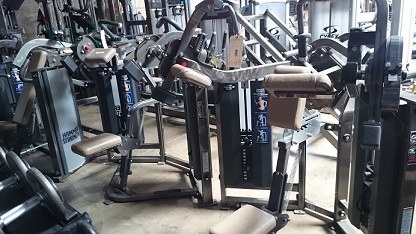 Hammer Strength MTS Complete Gym Package (19 pieces) (Hammer Strength 7 Piece Strength Line, 4 Life Fitness Integrity Treadmills, 2 Life Fitness 95Xi Ellipticals, 2 Life Fitness 95Ri Recumbent Bike, 2 Life Fitness 95Ci Upright Bike)
Free Weight Strength Package (All New Equipment) (Smith Machine, Squat Rack, Benches, Dumbbells, Plates, More)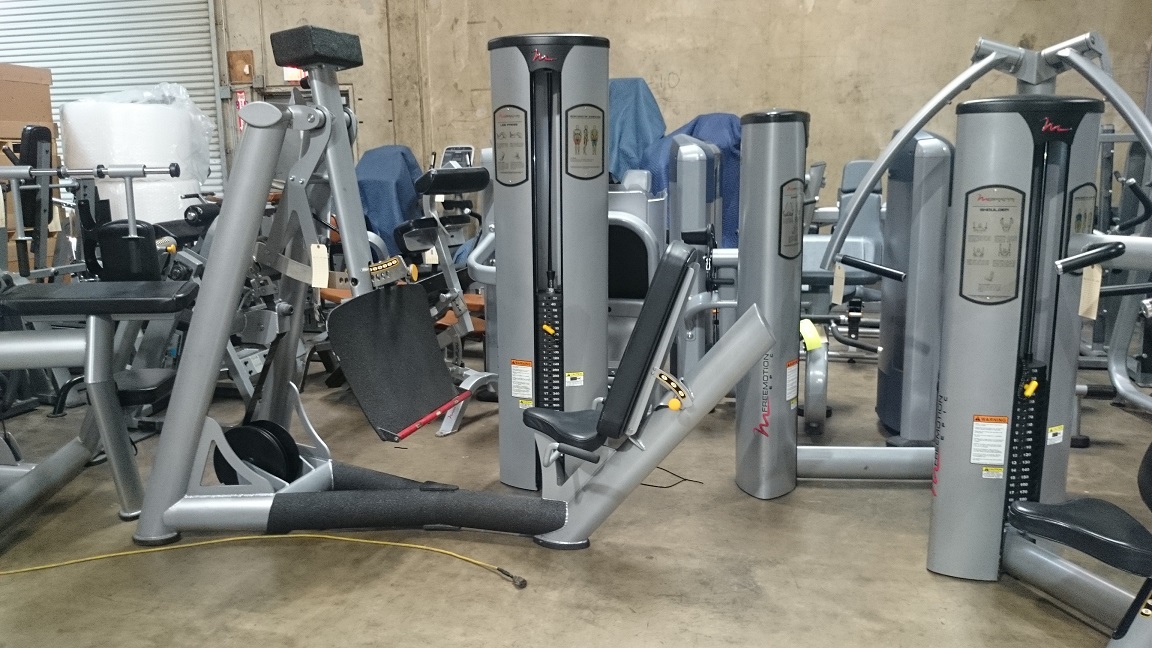 Complete Gym Package 2 (11 Pieces) (FreeMotion Epic 7 Piece Strength Line, 2 Precor 956i Treadmills, 2 Star Trac Pro Recumbent Bikes)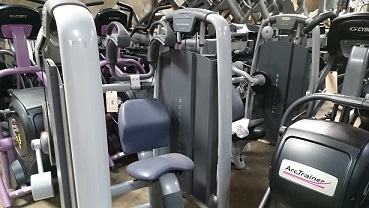 Technogym Selection Complete Gym Package (20 pieces) (Technogym Selection 8 piece strength line, 4 Life Fitness 95T Inspire treadmills, 4 Technogym Synchro ellipticals, 2 Technogym touchscreen upright bikes, 2 Technogym touchscreen recumbent bikes) 
Technogym Element Plus Complete Gym Package (17 pieces) (Technogym Element+ 7 piece strength line, 4 Life Fitness 95T Engage treadmills, 4 Technogym Synchro ellipticals, 2 Technogym touchscreen upright bikes, 2 Technogym touchscreen recumbent bikes)
Life Fitness Pro2 Gym Package (22 pieces) (Life Fitness Pro2 12 Piece Strength Line, 5 Cybex 550T Treadmills, 3 Cybex 750A Arc Trainers, 2 Cybex 750R Recumbent Bike) 
Technogym Complete Gym Package (29 Pieces): (10 Piece Technogym Selection Line, 5 Technogym Synchro Elliptical, 3 Technogym 700 Excite Recumbent Bike, 3 Technogym 700 Excite Upright Bike, 2 Technogym 700 Excite Stepper, 2 Technogym Wave, 3 Technogym Run Treadmill, 1 Technogym Excite Treadmill) 
Precor 885 with P80 Console Cardio Package (all touchscreens) – Precor TRM 885 Treadmill, Precor AMT 885 Elliptical Crosstrainer, Precor EFX 885 Elliptical Crosstrainer, Precor UBK 885 Upright Bike, Precor RBK 885 Upright Bike (click the link for individual pricing)
Matrix Wholesale Cardio Package (13 Pieces, all touchscreen): (2 Matrix X7e Ascent Elliptical, 1 Matrix X7e Elliptical, 5 Matrix T7Xe Treadmill, 5 Matrix 7x Recumbent Bike)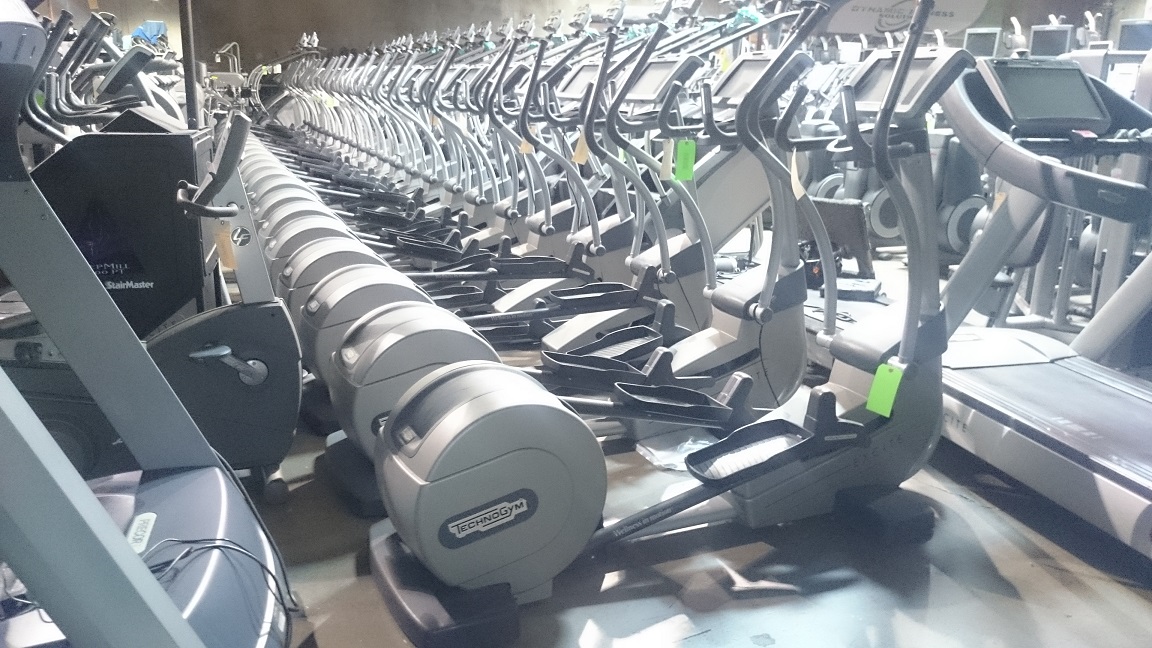 Technogym Wholesale Cardio Package (Technogym Synchro 700 Elliptical Crosstrainers and Technogym Cardio Wave Machines) (click link for pricing)
Complete Strength Lines (Hammer Strength, Life Fitness Signature, Cybex VR2, Precor Icarian, Technogym Selection, Etc.) We can pair these strength lines with our large selection of cardio machines to create your own gym package.
Contact us at [email protected] if you are interested in any of our equipment.
What Happens After I Buy Used Gym Equipment From You?
You're a customer from the minute you look to buy from us, and long after you've purchased from us as well. We pride ourselves on giving our clients the best customer service possible to ensure that your experience with us is a delightful and enjoyable one. Here at Primo Fitness, we provide you various types of services available following your purchase.
We will provide you replacement parts at wholesale prices (the prices that we get them for). This helps you keep maintenance and repair costs as low as possible. You get such a discount that you can even resell these parts in your local country for profit.
Our service technicians are certified and will provide servicing advice, tips, and how-to's if anything ever goes wrong with your machine, so you're never alone.
How to Buy Used Gym Equipment With Us
Send us an email with your request or call our sales representative at (714) 957-2765.
We will prepare a proposal estimate for you. The more you buy, the more you save!
Once payment has been cleared, we will reserve your products and put them into production.
Most of our international clients fly into our Santa Ana, CA warehouse to inspect all of the equipment but not all do. We have conducted many international deals over the phone and email and can assure you that you will get exactly what you are expecting.
We offer warranty policies on all of our products under remanufactured models – your members will think you got brand new gym equipment. Here at Primo Fitness, we strive to provide you the best in quality gym equipment at affordable, competitive prices.
We look forward to working with you on supplying your fitness equipment needs! 
We can help you find whatever you need within your budget, even if the product is not listed on the site, we will find it for you. You can fill out the form even if you only want one machine! We offer discounts on bulk orders and put together gym packages per request. Contact us if you have any questions.
Give us a call at 1-714-957-2765 or email us at [email protected].