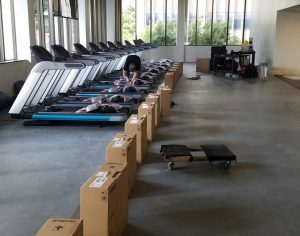 Several decisions can have a huge impact on your success as a gym owner. The first of these is the location in which you choose to open your gym, which can affect everything from foot traffic to the number of nearby prospective members in your local area.
The second is the audience you choose to cater to, be it a general audience of exercisers or a specific niche audience, such as CrossFit and functional fitness enthusiasts, bodybuilders and powerlifters, competitive athletes or any other demographic.
The third is the supplier you choose to fit out your gym. From pricing to equipment quality, the supplier you choose can have a huge impact not only on how much it costs to set up your gym, but also the experience your customers have when they work out.
Because of this, it's important to be careful and discerning when you're choosing the right gym equipment supplier. While one wholesale exercise equipment supplier could be a great match for your business, another could create more problems than they solve.
To make the process of choosing the right equipment supplier easier, we've provided three tips that you can use to avoid suppliers that aren't worth your time and focus on the suppliers that are best capable of helping you put together the fitness center you want to build.
Ask for Examples of Previous Jobs and Gym Fitouts
As the saying goes, "the best predictor of future behavior is past behavior." When you start to look at different wholesale exercise equipment suppliers, ask for examples of the previous fit out jobs they've completed for gyms and fitness centers.
A good supplier won't just show you a catalog of the equipment they have available — they'll also show you a range of photos of previous gyms they've helped fit out, helping you to see what they're capable of.
If you're opening a specific type of gym (for example, a CrossFit box or a small, local fitness center in a relatively small location), ask for examples of specific jobs that are similar in style and design to yours.
If a wholesale exercise equipment supplier has completed a similar job to yours before (or, even better, if they've completed several jobs like yours before), it's a good indicator that they'll live up to your expectations.
It's also worth looking at testimonials from previous customers. Reliable suppliers who've been in business for several years will usually feature customer testimonials on their website to show that they're capable of fulfilling their promises.
For even greater peace of mind, you can ask potential suppliers to provide the contact details of their previous customers. This way, you can ask for a first-hand testimonial on the supplier from a real, proven customer.
In short, judge suppliers not just on their promises and promotional material, but also on their previous work. If a supplier has a history of excellent fit-outs and pleased customers, there's a good chance they'll be able to complete your project successfully.
Consider the Advantages of Domestic Sourcing
Search online for wholesale exercise equipment and you'll find everything from power racks to stationary bikes at unbelievably low prices.
However, check the finer details of the websites offering these products and you'll notice a few things in common. Most are located overseas (typically in China), and most have high MOQs (minimum order quantities).
This means that "buying cheap" can have several potential downsides for your business. First, if you're fitting out a small gym, you probably won't be able to get the ultra-discounted prices you see listed online due to your small order size.
Second, it can take weeks or months for your gym equipment to arrive from overseas, often with customs duties and other fees applied to it. Finally, since you can't inspect the gym equipment in person, it may not (and often doesn't) live up to your expectations in terms of quality.
While international sourcing might offer prices that look appealing, these disadvantages mean it usually isn't the best option for your fitness center.
Instead, it's better to consider the advantages of domestic sourcing. Instead of waiting for weeks or months to receive your equipment, you can have it transported rapidly to your gym location to speed up your fit-out process and help you avoid unwanted shipping delays.
Second, there are no customs fees or other unexpected taxes to worry about, meaning you'll only pay the amount you expected to pay without any surprise charges.
Third, you'll have access to an expert team to help you learn more about the equipment you're buying, rather than a sales representative in a foreign country hoping to secure a large, valuable deal on behalf of the manufacturer.
You'll also have the chance to inspect some or all of your gym equipment in person, as well as the ability to return it if it doesn't meet your expectations. These advantages mean it's almost always best to source your exercise equipment domestically instead of internationally.
Ask for a Competitive Quote for Your Project
Finally, it's important to make sure you get a great deal on your exercise equipment. If you're comparing several different wholesale exercise equipment suppliers, ask each supplier to give you a competitive, cost-effective quote for the equipment you're interested in purchasing.
Often, you'll find that two suppliers offering seemingly identical exercise equipment can quote a vastly different price, meaning that one supplier becomes an obvious choice over the other.
You might also find that one supplier is willing to offer additional extras as part of their quote — such as equipment assembly and installation, or an extended warranty — in order to strengthen their offer and earn your business.
If you have competitive quotes from different suppliers, you can even use your leverage to get an exclusive discount. Knowing that you've got options, many suppliers will be happy to work out a favorable deal that works for both of you in exchange for earning you as a customer.
In short, while pricing shouldn't be the only factor you use when choosing a supplier for your wholesale exercise equipment, it's still an important one to keep in mind. Ask for a great deal, then negotiate in a fair and friendly manner to make sure you get optimal value for money.
Talk to Our Commercial Gym Equipment Team
Are you searching for a reliable supplier of commercial gym equipment? From racks, weights, and barbells to cardio machines and more, we offer a complete range of high-quality workout equipment from the world's top brands.
Many of the items we sell can be customized with your color scheme and branding, letting you create a gym that's uniquely your own. For more information, or to request a full quote for your gym equipment, please contact us now.