Recent reports of a hotel guest having his head stuck in some gym equipment in Fort Lauderdale Beach may have spurred fears of the dangers of fitness equipment. Fitness equipment and working out in general can be quite dangerous if exercisers are not informed about proper technique and safety guidelines.
Here at Primo Fitness, we want people to be able to exercise and meet their fitness goals without fear of injuries. Not working out due to a fear of being hurt by fitness equipment is not a valid excuse. While the body is very versatile, there are certain ways to move which are much more biomechanically sound. We've compiled seven of our best tips to help you avoid injuries in the gym.
Warm up
Cold muscles are tighter and less mobile, leaving them more prone to tearing and injuries. A warm-up is exactly what it sounds like, moving to raise your body temperature which increases blood flow to the muscles. Light cardio such as a jog, some bicycle riding or jumping jacks are a great way to warm- up and prevent injuries. Also remember to always do a warm-up before stretching.
Stretch
Stretching should always come after a warm-up. Stretching helps to relax and elongate muscles which make them more effective for weight lifting. After warming up and stretching, muscles also become more pliable and injury-resistant. Stretching should also be done in between sets to shake out some of the lactic acid and increase circulation. Finally, stretching should be performed at the conclusion of your workout to prevent soreness.
Have correct technique and proper form
Hands down the most common injuries in the gym come from weight training with poor form. Just by moving in general you are prone to pulling or tearing a muscle, but adding weights to the equation makes it much more likely if you don't know what you're doing. Before you even attempt a workout and some weightlifting, research online and watch some videos on how to properly perform it. Even if you are using an exercise machine, which are designed to help you perform the correct motion, read the instructions  that are usually on the machine or look up some videos on how to use it. By having correct form, not only will you avoid injuries, you will also benefit much more from the workout and reach your fitness goals more quickly.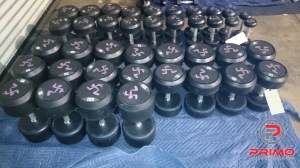 Don't try to lift too much weight
There's a fine line between pushing yourself to the limit and overdoing it. Many injuries, especially on gym machines, are suffered because the user tried to lift too many weights. It's always tempting to one-up where the person before you put the pin, but everyone is at a different fitness level and should only lift as much weight as they can without risking injury. If you can't lift weights without jerking or being in control of it on its way down, then you should lower how much you're lifting.
Have a spotter
When you're trying to discover your limits and find out how much weight is too much, it is absolutely essential to have a spotter. If you are using free weights instead of a fitness machine, a spotter is necessary for advanced squatting and bench pressing. During a good workout, you're bound to miss a rep and that is when your spotter should spring into action to protect you from injuries. A competent and alert spotter can prevent disastrous injuries caused by weights falling on top of you.
Don't train too often
Training can be addictive. When you're seeing results you'll want to hit the gym hard every day to keep the momentum going. In order for your muscles to grow they must first heal. Training more than 5 days in a row can be detrimental and it is recommended that you take a day to rest and recover. When you train too hard and too often, your muscles are depleted. In this weakened state they are much more susceptible to injuries.
Hydrate
Humans are around 60% water so of course hydration is the key to being healthy and injury free. You lose a ton of water through sweat by working out so you always need to stay hydrated before, during and after exercise. When you are dehydrated, you are unable to perform correctly and think clearly so you're more prone to make mistakes and hurt yourself.
Even though fitness machines are designed for safety, they can still be dangerous without the proper knowledge and preparation. We hope these tips can help you reach your fitness goals without hurting yourself or getting stuck somewhere you don't want to be.