While our warehouse will be closed on Black Friday, we are still participating with some great bargains on some of our most popular gym equipment. The winter season is when we are at our busiest so our inventory is constantly changing so act quickly if there is a product you want. These deals will only be valid up to Black Friday and will revert to normal prices after.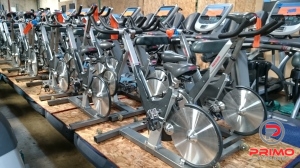 Keiser M3 Indoor Cycle
The star of our Black Friday sale is the highly popular and impossible to keep in stock Keiser M3 indoor cycle. This is easily one of our most requested products and usually sells out within a couple of days. The Keiser M3 cycles are well known because they are the indoor cycle of choice for many of the largest commercial gyms. The rise of popular of spinning classes has also contributed to the demand for the Keiser M3s.
These bikes are also sleek in appearance and the magnetic drive ensures that it is also a quiet unit which is great for home and apartment use. These units also come with the backlit display and adjustable pedals and seat positions. We are selling these units for only $499.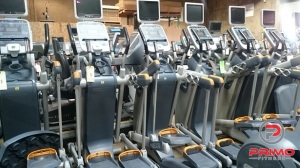 Precor AMT 100i Elliptical Crosstrainer
Normally we sell these versatile elliptical for this price in as-is condition but as part of our Black Friday special, we'll service and clean it on the house. While all of our units are sold in guaranteed working condition, as-is condition units may have a few cosmetic imperfections. We will thoroughly clean the Precor AMT 100i and make it look great. We also open up the units and inspect for worn out parts and replace them. They will not squeak or make noises after they have been serviced.
If you've read our previous blog posts, you'll know that we are enamored by how many functions the AMT machines have. The Precor AMT 100i is not just your standard elliptical; it can also double as a stepper or a ski machine. It does all of this on the fly also without any manual adjustments needed. Just adjust your stride and the machine will adapt to it.
Cybex 550T Treadmill
Treadmills are hands down the most popular cardio fitness equipment so we definitely had to include one in our sale. Many of our customers want commercial grade gym equipment but their floor space is limited. While most commercial grade treadmills take up a ton of room, the Cybex 550T treadmill delivers the quality in a compact size. It has a low and clean profile which is great for both a gym and home.
The Cybex 550T is functional for both fitness fanatics and the occasional user. There are a variety of built in programs with varying intensity levels. The programs can also be changed on the fly so there is no need to restart or stop your workout. The monitor also displays all the fitness tracking information you would ever need from calories burned, pace, heart rate, time, speed, incline and much more. This treadmill normally retails for $7,995 but as part of our Black Friday special, it is on sale for $549 which is 92% off!
We will be highlighting two more products on our Black Friday sale tomorrow! This sale ends very soon so please give us a call at 714-957-2765 or email us at sales@primofitnessusa.com for more information. Visit our Black Friday Sale page for all our offers.