Black Friday is right around the corner but the deals for Primo Fitness begin right now. We have selected a wide range of equipment that encompasses every fitness category. We'll highlight every deal so far on our sale page and break down each piece of equipment.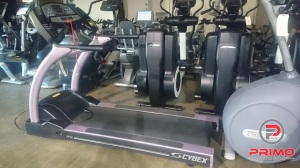 Cybex 530T Treadmill
We've previously reviewed the Cybex 530T treadmill so we will keep it brief. The 530T is one of the most fundamentally sound, durable and easy to use treadmills on the market today. For $599 you will not find a better commercial grade treadmill with all the features that this treadmill has. It comes equipped with safety features, heart-rate monitoring and tons of different workout programs.
Precor AMT 100i Elliptical Crosstrainer
There's not much more that can be said about the Precor AMT 100i that hasn't been already said, including in this review we wrote. In summary, the Precor AMT is one of the most popular, if not THE most popular fitness machine on the market. Its popularity comes in its versatility. The Precor AMT is has to the ability to adapt to your stride on the fly. It can take the place of both a traditional elliptical and a stepper.
Livestrong Matrix Indoor Cycle
Livestrong and Matrix have teamed up to deliver a great indoor cycle that is designed to simulate outdoor riding techniques and train for competitions. It has a road-inspired adjustable LX7 drop handlebar for the most realistic feeling. It also has a dual speed pedal and cage designed with aluminum adjustment. It also has a water bottle holder and an additional option to add a computer for further fitness tracking. This Livestrong indoor cycle is one of the most solid indoor cycles around and is our $499 price point is highway robbery.
FreeMotion Incline Trainer
The FreeMotion incline trainer is great for fitness beginners and veterans. With its inclining function, beginners can burn a decent amount of calories just by walking up a steeper incline, which helps to keep impact low on the joints. Fitness veterans can also increase the incline and run for a grueling and intense workout that will definitely push anyone to the limit.
Life Fitness 91Xi Elliptical Crosstrainer
The Life Fitness 91Xi elliptical is a member of the Classic Series and is a great entry level elliptical for users of any experience level. This elliptical has movable arms which allows for a smooth total body cardiovascular workout. It is commercial grade so of course it is extremely durable. It also has a slew of features including low impact workouts, heart rate targeted workouts, interval training and many more.
These are just the machines currently highlighted in our sale. We will be adding more in the following week so stay tuned and check out the Black Friday Fitness Equipment Sale page often!