Updated 1/11/21 – Currently out of stock!
We have a few Cybex 550T treadmills for sale. These are all commercial grade units and are in great working condition. They have all come from gyms or health clubs and our mechanics go through each and every machine to make sure everything is working properly. These Cybex 550T treadmills are great for the home because they are compact and do not take up much floor space at all.
If you are interested, please call us at (714) 957-2765 or send us an email at sales@primofitnessusa.com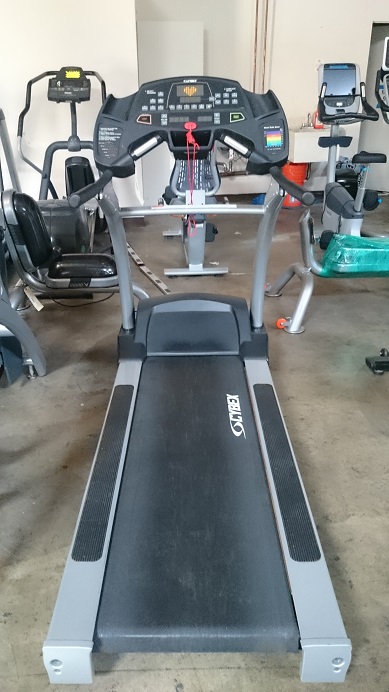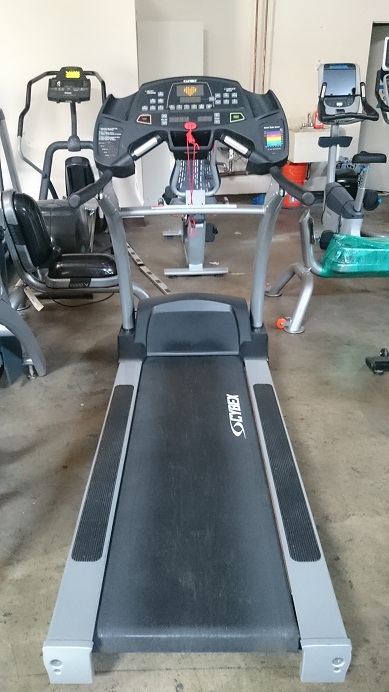 The low, clean style of the Cybex 550T Pro3 Treadmill looks great in the gym or in your home and the low step-up is less intimidating for the new exerciser. With plenty of programs to satisfy the serious runner, the CYBEX Pro3 Treadmill is simple to operate for even the occasional user. And programs can be changed on the fly so there's no starting over if you want to raise or lower the intensity of the workout. Users appreciate the convenience features of the dual water bottle holders, utility tray, and Quick Start.
The Cybex 550T Treadmill has a split level display so that users are given the ability to use what they want and when. Time, speed, and incline are constantly visible on the lower level display with other information available on the top display. The treadmill comes with a Pulse Width Modulation (PWM) controller which uses digital feedback for high-speed stability and constant speed control with smooth operation. It also maximizes effectiveness for economical power consumption. The treadmill running deck is soft at landing, hard in the middle, and rigid at toe-off, to precisely match the body mechanics of a runner. Cybex Machines also have Safety Sentry, which gauges whether you are there or not and will stop the belt after the pre-selected waiting period helping to keep members secure.
Features
Exercise Programs: 7
Split Level Display: Lower Level: Time, Speed, and Incline, Distance, Calories, Calories/Hour, Pace, METs, and Heart Rate
Speed Range: 0.5 – 12.4 mph
Elevation Range: -2% – 15%
Handrails: Full-length Handrails
Running Area (L x W): 60 x 20 in (152 x 50 cm)
Heart Rate Monitor: Includes Contact and Wireless capability (chest strap not included)
Two Water Bottle Holders, Magazine Rack, and Utility Tray
Languages: 7 languages (English, French, German, Spanish, Japanese, Russian, Swedish)
Step-up Height: 19 cm
Power Requirements: 115V
Electrical receptacle & plug: NEMA 5-20R 120v
Electrical requirements: 20 amps, dedicated circuit required, non-looped grounded
Max User Weight: 400 lbs.
Product Weight: 380 lbs.
Length: 81 in.
Width: 32 in.