If you are in the market to buy a rowing machine, it is essential of you to do your research on what kind of rowing machine you should get. Two of the most popular rowing machines are the Water Rower and Air Rower. These are the major differences between the two machines that people look for when buying a rowing machine.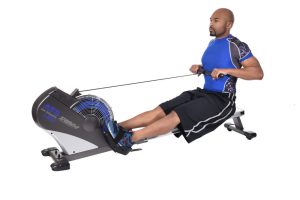 If interested in purchasing your own rowing machine, take a look at our Water Rower and Air Rower.
See These Machines and More at our Warehouse in Orange County, California
Local customers will enjoy walking in to browse our large collection of both used and new fitness equipment. We are happy to help those who need assistance deciding on the right equipment for their home or gym. International dealers, wholesalers and gym owners looking for the best prices and service are more than welcome to visit as well; we ship to all parts of the world. Our team members are prepared to help in putting together special gym packages that best suit their needs.
Come take advantage of our expert sales staff and their expertise with designing home and professional gyms with fitness equipment within your space and budget. Our team has over 100 years of combined fitness industry experience in all types of new and used gym equipment from repair and remanufacturing, to moving and installation, to what gear is best for your home, apartment complex or gym. You can also email us at Sales@PrimoFitnessUSA.com or call with any questions at (714) 957-2765. However, we encourage you to come in person and see one for yourself.
We are open Monday-Friday from 9-5, as well as Saturday by appointment only. Our friendly and informed staff are ready to help you in any way regarding fitness equipment. We serve local fitness enthusiasts and gym owners from all over Southern California, from Orange County, San Diego, Los Angeles – and beyond. Come on by!