Today we will be reviewing one of Life Fitness' newest additions to their highly respected Elevation Series, an elliptical crosstrainer with the new and innovative Discover SI console. First we'll break down the features of the elliptical itself then delve deeper into the new Discover SI console.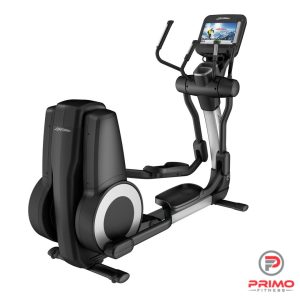 This Elevation series elliptical is part of the next generation of Elevation elliptical. These Life Fitness elliptical are designed to deliver a comfortable and effective full-body workout, with the help of the movable arms. Life Fitness has done an extensive amount of biomechanical research to ensure simulation of natural movements. The Elevation series elliptical replicates common moves such as running and walking which will aid the user in their everyday life. These units are also commercial grade so you can rest assured that these elliptical crosstrainers have the long-lasting durability Life Fitness is known for. They also come in four different colors. We have the white elevation series elliptical in stock!
Now on to the finest piece of technology on this elliptical, the Discover SI console. The difference between the Discover SI console and the Discover SE console is the size. The SI is 10" while the SE is 16". This 10" integrated LCD touchscreen not only contains valuable workout data, but also a ton of entertainment options. It also offers internet connectivity.
The console connects to the LFconnect, which allows you to personalize your workout and entertainment options. You can also watch videos on demand and surf the web.
The Elevation series elliptical is the perfect blend of technology and fitness. The elliptical itself is well constructed and durable and the console contains cutting edge technology and interactivity. This unit is great for a gym or home.