[UPDATED APRIL 11, 2020]
Most people spend the months before summer and during the summer to get in shape. With so many summer options for staying healthy, it's pretty easy to get your heart rate up during the warmest months of the year. 
Summer is coming to an end, and many people around the United States will spend their winter months indoors unable to work out the way they did in the summer. While you may have an indoor workout regime that includes yoga, pilates, CrossFit, and more, you'll also need equipment that can help you stay fit. 
One of the biggest problems homeowners face when buying gym equipment is finding quality items that fit their budget. With home gym and garage gym packages, you get more bang for your buck. You'll receive multiple items that are affordably priced and bundled into one set. 
You won't need to purchase anything else to fill your home gym or garage gym. All home gym packages from Primo Fitness can be customized to your liking so that you don't have to purchase any items you don't need. Here are Primo Fitness' Equipment Packages perfect for home gyms. 
It is ideal for those who are looking to tone their body and includes the Life Fitness 95 R Explore Console Recumbent Bike. 
The bike was designed with the technology and durable components that you expect from a highly regarded brand like Life Fitness. This one, in particular, comes with an Explore console while the walk-through design is great for those who need the ease of getting onto the bike. Recumbent bikes place your body in the perfect posture and are easy on the joints while still giving you a quality workout that burns calories and fat. This package also includes:
Power Systems Medicine Ball Rack with 5 Balls (4 to 12 lbs.)

Life Fitness Premium Equipment Mat 

Precor Ab-X Abdominal Bench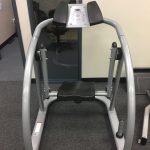 This package is a great package for building strength and gives you everything you need for a home gym package. It even includes a new dumbbell set and rack so that you have a complete mini gym without the need to purchase accessories. From head to toe, you can strengthen and tone your entire body with this one package. It includes:
Dumbbell Set 5-25 lbs. 

Life Fitness Signature Single Tier Dumbbell Rack 

Cybex Adjustable Bench 

Precor 240i Stretch Trainer 

Ab Coaster CTL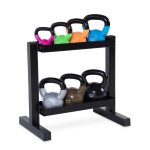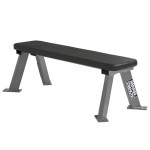 The perfect mix of gym equipment, Home Gym Package C gives you four pieces that will fit in any spare room or garage. Complete with a new Life Fitness IC3 Indoor Cycle with Monitor, you'll burn calories every single day. If you're looking to switch between your cardio training and your strength training, this package also contains a new CAP Barbell Kettle Set. The complete package includes:
CAP Barbell Kettlebell Set 

Hammer Strength Flat Bench 

Ab Coaster CS3000 

Life Fitness IC3 Indoor Cycle with Monitor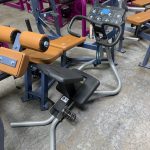 Improve your posture, flexibility, and coordination with this package. It includes a used Precor 240i Stretch Trainer designed for daily stretching before and after your workout. It places you in ergonomically correct stretching positions for maximum benefits. The flexibility doesn't stop there. 
This package also includes a new yoga mat and resistance stretch band set. For when you're not working on your flexibility, this package also contains a Precor Spinner Shift to boost your cardio and take it to a whole new level. The complete set includes:
Precor Spinner Shift 

Precor 240i Stretch Trainer 

BodyTone Yoga Mat 

Sports Research Resistance Stretch Band Set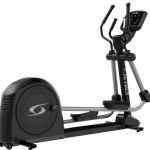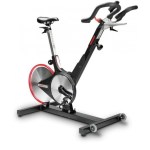 This home or garage gym package includes five items, making it one of our best deals. The FlexFit package includes two cardio machines: 
Cybex V Series Elliptical

Keiser M3i Indoor Cycle 
The benefits don't stop there. It also comes with a Life Fitness G7 Home Gym with Bench. This jungle gym can strengthen just about any part of your body and can be used by more than one person so that you have a home gym everyone in the family can use at one time. 
What makes this package so great is that it offers both cardio and strength training equipment that you typically have to purchase separately. When you purchase a package, you'll get more products for an affordable, budget-friendly price. The package also comes with:
Exercise Ball – new

Foam Roller – new
Fit Garrage & Home Gym Package 
This home gym package got its name because it's the perfect set of equipment that can help you get fit and stay that way. It includes a rower from the world-renowned brand StairMaster to help you strengthen your arms while using the correct posture. 
This set also includes a Star Trac Studio 3 Indoor Cycle so that you can keep your heart rate up and the fat burning. For your own cardio exercise, this package is completed with a Bodytone Step with two sets of heights so that you can step your way to strong legs and toned buttocks.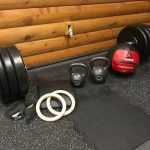 Cross Fit is one of the biggest trends in the fitness industry. It's focused on varied, high intensity, and functional movement using exercises like calisthenics, Olympic style weightlifting, powerlifting, indoor rowing, running, swimming, and more. People who do Cross Fit adore it for its ability to help them shed extra weight and improve muscle strength. 
With the CrossFit Home Gym Package, you'll have everything you need to start doing CrossFit at home. Whether you've gone to a CrossFit class at the local gym in the past or not, these items will help you get on your way to losing weight and building muscle in no time. The package includes: 
Olympic Weightlifting Bar – 45lbs, 7ft, 28mm Diameter

230lb Bumper plate set – Pairs of 10's, 25's, 35's, 45's

2 Kettlebells – 35 lb, 53 lb

1 Pair of Wood Gymnastic Rings

1 Dynamax Medicine ball – 20lbs

1 Ab Mat

1 Speed Jump Rope

1 pair of spring collars
This is one of the most robust and affordable gym packages Primo Fitness offers. It contains six items for strength training. There's no need to buy anything else for your home gym when you purchase the Economy Home Gym Package. 
If you don't have enough room in your garage, additional items fit well in a spare bedroom, and even a closet. The full strength training home gym package contains:
Olympic Weightlifting Bar – 45lbs, 7ft, 28mm Diameter

160lb Bumper Plate Set – Pairs of 10's, 25's, 45's

1 pair of spring collars

1 Kettlebells- 35lb

1 Dynamax Medicine ball – 20lbs

1 Ab Mat
Can't find the home gym package you're looking for? Call us today for a custom quote!