For the creative exerciser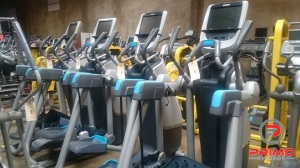 If you have a friend who is always looking for the latest fitness trend and trying some next level exercises, the Precor AMT 885 with Open Stride technology would be the perfect gift for them. It's never the same workout twice with the versatility of the AMT machines.
While the previous iterations of the Precor AMT (including the 100i and 835) were already extremely versatile, the Open Stride technology in the 885 takes this customizability to another level. The Precor AMT 885 is a low impact machine so it's not going to put a beating on the user's knees. Even though it's low impact, it'll still burn a ridiculous amount of calories. The built-in programming options allow users of all levels to be able to personalize their workouts to keep them challenged and engaged.
The main draw of this newer model of AMTs is the Open Stride. Exercisers can go from short to long strides, walking to jogging to running, climbing and lunging and even to using it as a stepper. There is no button to press or complicated menus to go through in order to change your stride, the machine adapts to your new movements instantly. Most AMTs also come equipped with the full touchscreen P80 consoles. These consoles will display a Stride Dial which helps the user see their stride and determine which muscle group they're targeting.
The AMT 885 also comes with movable handlebars so the user will experience a fully body workout. These handlebars are also adjustable so they can be gripped comfortably by exercisers of any size. If you have that one friend who constantly seeks new ways to get fit, you can't go wrong gifting them a Precor AMT 885 Elliptical Crosstrainer.