As October rolls in, we're getting ready for Halloween with some scary good deals. Due to their popularity, many of our September deals are rolling over so you can continue on with the savings. We have a ton of gym equipment for sale but with so many options, we know narrowing down choices can be difficult. We went through the numerous items that we have on sale right now and picked our top choice for each cardio category. Of course, you cannot go wrong with any machine, especially since we guarantee that they're all in working condition. Here are our top picks for each category:
Treadmill:
Star Trac Pro Elite Treadmill – $799
As you can tell by the name, the Star Trac Pro Elite treadmill is one of the top commercial grade treadmills in the used market right now. It is heavy duty and built to withstand punishment. One of the best features of this Star Trac treadmill is the dual fans built right into the console. It is such a simple feature but extremely practical feature that will help you workout more comfortably.
In addition to the slew of features, the Star Trac Pro Elite treadmill is also stylishly designed. Its curved body was built from a collaboration between Star Trac and DesignWorksUSA, a BMW group company.
Bike: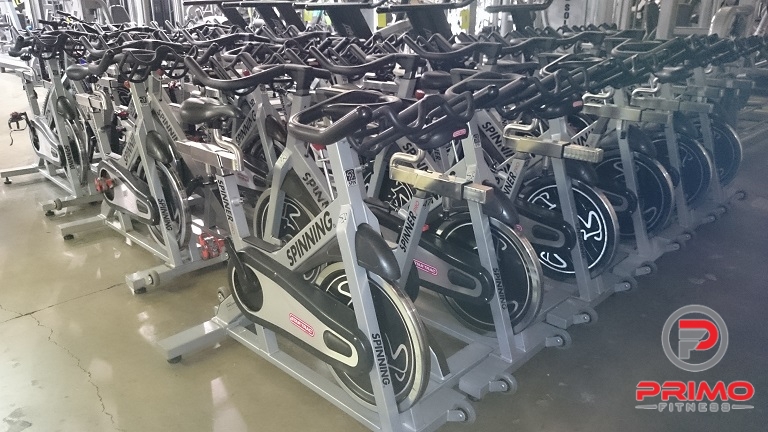 Star Trac Pro Spinner Spin Bike – $499
We have to follow popular trends here and pick a spin bike for our top exercise bicycle for sale. While there are many indoor cycles on the market, the Star Trac Pro Spin Bike is actually the one to coin the name spin bike. This compact cycle has a high degree of adjustability to suit riders of all fitness levels and sizes. It is also a commercial grade unit so it has an extra durable cranks system, rust-resistant material and just a very solid construction.
Elliptical:
Technogym Synchro Excite 700 Eliptical – $899
Technogym is always pushing the limits and adding cutting edge technology to their exercise equipment and this elliptical is no different. The Technogym Synchro Excite 700 elliptical uses rear drive trajectory and a belt drive system which ensures a smooth and quiet experience while working out. It is impact free so you won't have to worry about damaging your joints. There are over 25 difficulty levels so users of all abilities can benefit from having this machine.
On the entertainment side, the Synchro 700 is also Wellness compatible which means that users can watch TV or listen to music on their iPod while training.
These are just our top picks for our sale that will be running through part of October. We encourage you to check out all the great deals and all the gym equipment for sale and make your own choice and what you'd love to have.