Our Santa Ana warehouse has been receiving so much foot traffic from people looking for gym equipment that we've decided to remodel our entire warehouse to make it more accommodating to our customers. If you've ever visited our warehouse before, you know that we're never short on equipment but getting to a specific unit took a little bit of maneuvering. Sometimes customers would want to test out a gym machine that was in between other machines and it took a bit of time to move everything out of the way. In order to speed up the process and have our customers in and out more efficiently, we made a drastic change.
Through weeks of hard labor by our skilled staff, Primo Fitness created a showroom within our warehouse and organized equipment in a more logical fashion. When customers walk in, they are immediately greeted by our testing area. We have placed our most popular treadmills, elliptical cross trainers, exercise bikes and other cardio machines right at the entrance of our warehouse. They each have their own area and customers can try them one after another in order to compare the models directly.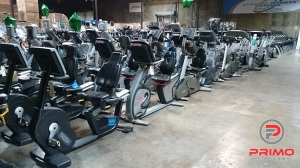 All of our gym equipment is commercial grade so they are built drastically different from equipment found in retail stores. We wanted our customers to be able to feel the difference and the only way to do so was by allowing them to test out the units. Besides the difference in performance, commercial grade units are also much more durable than home units. They are designed to go 24 hours a day with hundreds of people using it so an individual won't have much luck damaging it.
If you're in the local Orange County area, we hope you can stop by and take a tour around our newly remodeled warehouse. We hope to see you here and help you on your path to fitness!
We are located at:
1909 S. Susan Street
Santa Ana, CA 92704
Hours:  9 a.m. to 5 p.m. Monday – Friday