There is no greater gift than the gift of health and fitness. Unfortunately, being healthy and fit isn't a tangible object that can be neatly wrapped up with a bow so the next best thing is gifting someone some quality gym equipment. If you're new to the world of exercise equipment, finding the perfect gift can be difficult. There are so many models that cater to different exercisers so we're here to help sort it all out. This is our fitness equipment holiday gift guide!
For the person with limited space:
Not every person has a giant garage to set up a full gym, but there are still many options for the fitness fanatic stuck in a small space. While most commercial grade models are built larger than retail models to increase durability, some companies still create high quality equipment with smaller footprints. On the cardio side, there are two clear options for equipment that can be easily squeezed into a crowded or smaller area.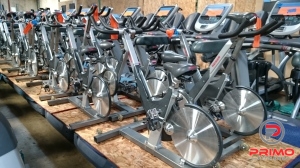 Indoor Cycles/Spin Bikes:
We have an in-depth article explaining how to choose the best indoor cycle for your goals. When it comes to both footprint and height, indoor cycles will easily be your most compact option among commercial grade cardio machines. They're normally a little shorter than four feet tall, around four feet in length and a little over two feet in width. Most of the indoor cycles and spin bikes on the market right now are roughly the same size so you should be safe buying from any of the well known brands such as Star Trac, Keiser, Schwinn or Matrix. Another flip side of purchasing an indoor cycle is that it is the most cost effective commercial gym equipment you'll find, especially if you buy used. Some of our least expensive models start at only $300 for a bike in guaranteed working condition.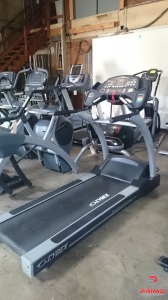 Cybex Treadmills:
Cybex treadmills are our go-to recommendations for many home gyms because of their compact frame. Our two favorite models that we recommend are the Cybex 550T treadmills and the Cybex 530T treadmills. These have all the standard features that you'd expect from a commercial treadmill (durability, smoothness, fitness tracking, etc.) without the bulky size.
For the tech geeks:
Fitness tracking and electronic read-outs such as calories burned, speed, distance run, etc. have been embedded in cardio machines for over a decade now, but recent advances have pushed gym equipment toward becoming computers that you can work out on. If you need to get a gift for someone who loves technology and exercise, we have some great gift options available.
Precor 885 series with P80 consoles:
The 885 series is the latest addition to Precor's impressive cardio line. These cardio machines look quite futuristic with their sleek lines and stylish frame. The shining star of these machines and what will get the tech geeks excited as the P80 consoles that come with them.
We previously compared all the Precor consoles and the P80 is hands down the most advanced. It is a 15" LCD capacitive touch screen console with motion controls. It has advanced electronic readouts for all your complicated fitness tracking needs in both metric and US standard units. It also comes with a variety of different language options. New to this model of consoles is that it is Preva Network Capable. It can connect online for a wide range of different entertainment options. Like the previous models, you can also connect a television with cable.
This is only the first part of our holiday gift guide. Stay tuned for more!