Love fitness and want to make a living out of it? There is no better way than to open a gym and share your love for working out and helping others get in shape. But like opening any other type of business, opening your own gym or fitness studio can be a daunting task. It will most likely be the most challenging, financially and mentally, project of your life so it's important to have a detailed plan in place.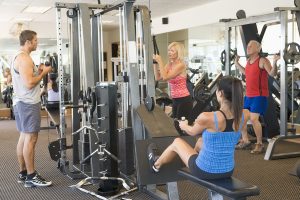 1.Have a vision
Before you get down to the nitty gritty details of opening a gym, you need to have a vision of what you want to create at the end of it. All gyms are not created equally and there are many different kinds of gyms. There are small fitness studios, hardcore garage gyms, gyms that cater toward the elderly and many others. In order to figure out what gym would be best for you, scout out possible locations.
2.Find a suitable location
An easy to reach, easily seen location is absolutely vital for a gym. In order to have the most success, you need to analyze all the demographics of your surrounding area including the average age, income, competitors and much more. Get to know the landscape so you know what kind of gym you can open.
3.Get the legal work out of the way
Lawyers may be costly, but they're absolutely essential when starting out a business. Legal paperwork is all about the details and hiring a quality lawyer will help you navigate all the forms and filing and maybe even save you some money with loopholes. You'll have to apply for a business license first and the qualifications and applications vary state by state. Sometimes you'll also have to apply for both a local and state business license. There is also a chance of injuries occurring in your gym, so you will also have to apply for gym insurance.
4.Raise the capital
The entire cost of opening a gym can range in the hundreds of thousands of dollars, which many do not have on hand. You can always attempt to persuade investors to provide capital for your business or go to your bank for a loan. You will need a detailed business plan on how your business will be successful and quickly make profit.
5.Buy some equipment for your gym
This is our favorite part. There are many options when it comes to equipping your gym. You can buy new equipment, which is extremely costly but if you're in an upscale neighborhood and your locals demand only the best, you can go with this route. You would have to charge a much higher membership fee though to compensate. You can also lease the equipment, which many gyms do. The downside is that this is just a rental and you never truly get to own the equipment, so if you eventually want to consider selling your gym you won't have the equipment to make some money back from. Finally, there is the option of buying used gym equipment. Buying commercial grade equipment and having it serviced and cleaned or remanufactured will ensure that your machines will last and you will actually own them. If you need assistance with this, we put together gym packages for fitness facilities of any size.
6.Hire quality trainers
Without a doubt, good trainers are an extremely valuable asset for your gym. Many members are willing to pay for the services of a qualified trainer and will repeatedly return to your gym if the trainer is outstanding. Trainers not only help with how to perform exercises, they also help with diet and motivation. Make sure your trainers are certified and have a great track record and positive client reviews.
These are just a few of the key points you should consider when planning to open your gym. There are hundreds of little details that you have to make sure to cover, but if you hire the right help you should be fine. If you need free consultation, we have experts that have helped open many gyms. You can contact them by sending an email to sales@primofitnessusa.com">sales@primofitnessusa.com