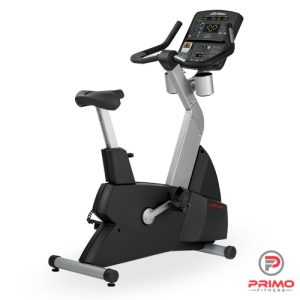 Continuing with our Life Fitness Integrity series, we have the Life Fitness Integrity Upright Bike. This model is representative of the advanced engineering and durability that the Life Fitness brand is known for.
Even though the technology inside the Life Fitness Integrity Upright bike is highly advanced, using it isn't. One of the best features is the simplicity of adjusting the seat. It takes merely seconds and fits riders of all sizes. The seat is also in a covex shape, and the ratchet seat adjustment is created so that riders can adjust the seat, even while sitting on it.
Similar to the other equipment in the Integrity line, the upright bike has the latest entertainment capabilities. The most notable being the iPod compatibility and integrated iPod/TV controls. If you're looking for a high tech option for a used upright bike, the Life Fitness Integrity Upright Bike is a great choice.