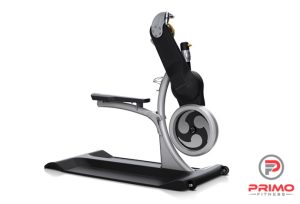 You may or may not have seen this odd looking exercise machine and wondered what exactly it is and what it does. The name "cycle" usually implies that it is some sort of bicycle, but that is not the case here. It involves cycling, but with your arms. Arm cranking machines aren't new, but for some reason, using your arms for cardio has never really caught on. It is also a great way to stay in shape when your lower body is injured.
The Johnny G Matrix Krankcycle, invented by a Johnny G in a collaboration with Matrix, is a great tool for both working on your upper body, including the core and arms, and also getting some great cardio.
Each of the arms are independent which allows for a greater variety of movements. Another wonderful feature is that the machine can be lowered to around chest level and be used as a rowing machine. There is a knob to adjust resistance to make sure your workout is at your optimal level. In terms of adjustability, the Krankcycle is also very versatile. The head to be moved in a variety of positions, resistance can be changed, and the shape of the seat allows for seamless transition between seated workouts and standing workouts. There is also an option for seatless models, which allows for wheelchair accessibility.
You may have also noticed that the cranks have a narrow axis, which allows for a higher rotation per minute and a more intense workout. There are tons of amazing possibilities for this machine so we highly encourage you to maybe try it out and step out of your comfort zone.
Don't know where to find this great used gym machine? Luckily, we have a few in stock on our website. Check out the Matrix Krankcycle!