You're scrambling for that last minute gift for your favorite fitness fanatic but you can't find anything in the stores. You can't buy equipment at a retail store because you know that Christmas gifts are meant to be enjoyed on Christmas. It's no fun unwrapping a box with a treadmill in it and not being able to use it. Why put your dearest friend through the torture of having to install a complicated piece of gym equipment? We give you a list of some fitness equipment that you can just come by, pick up and deliver it to your recipient right in time for the holidays.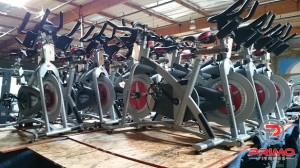 Indoor Cycles/Spin Bikes
Indoor cycles are the most portable commercial grade fitness equipment you'll find on the market. Unlike the retail stores, all of our equipment is fully assembled and ready to go. This is how we're able to allow customers to test out the exact machine that they can purchase. If you're worried that a fully assembled exercise equipment unit won't fit in your car, it is not a problem at all with the compact spin bike. We were even able to load one into a Mini Cooper.
Indoor cycles are also relatively inexpensive compared to other fitness equipment. A fully functional commercial grade model starts at $300 in our warehouse. We have a wide variety of brands ranging from Keiser, Matrix, Lemond, Schwinn and more.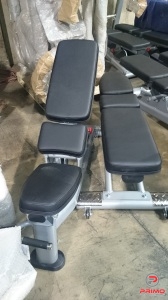 Benches
These aren't the benches you sit on while feeding birds at the park, these are heavy duty benches built to withstand a ton of punishment during a workout. Since most home gyms don't have enough space for a full strength circuit, most exercisers will opt to use dumbbells and barbells for strength training. In order to properly execute these exercises, they'll need a bench to work out on. Even power racks and cages benefit from being paired with a bench.
There are many different types of weight benches but the one we recommend most for its versatility is the adjustable (sometimes called 0-90) bench. Adjustable benches can be used as a flat bench, decline bench or an incline bench to assist in a wide array of exercises. There are fitness benches in every gym across the world so it would be a great gift for someone starting off their home gym.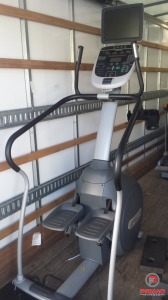 Steppers (Stairstepper)
While they can be quite tall, most steppers don't take up much space footprint wise so they can be a great gift/addition to someone's home gym. Treadmills are generally the preferred choice for cardio machines, but steppers are great in their own way. They are low impact so they won't put a considerable strain on your knees and joints. They're also great for toning and strengthening the lower body.
They're also extremely effective at burning calories because, if you don't use the rail support, you're lifting your entire body weight with every step you take. Steppers are also fairly simple to use and everyone is familiar with climbing stairs so there is no learning curve to worry about.
If you're looking for the perfect last minute gift for a fitness fanatic you cannot go wrong with the options we've listed above. These are all affordable commercial grade machines that can easily fit into even the smallest of home gyms. We hope you have a happy holidays!