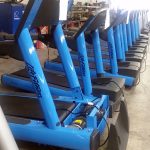 Buying a treadmill can significantly enhance your odds of achieving physical fitness and staying fit. When you get a treadmill, exercise becomes easier and more convenient. However, buying a treadmill can sometimes be a daunting task. It can be quite a hassle especially when you don't know where to start. Luckily, you can easily get a top quality treadmill from Primo Fitness. We are an online store where you can find many different kinds of used gym equipment for sale at quite an affordable price. Some of the top treadmills at our disposal include:
Below is a rundown of reasons why you can trust Primo Fitness if you are shopping for a top-quality, affordable treadmill.
Save Money
Price is usually the first thing that people shopping for large items such as treadmills usually have to think about. The prices of treadmills usually range from about 500 dollars to 3000 dollars or more. Less expensive machines may be appropriate for people planning to be using them less often. All in all, at Primo Fitness, we are able to offer used treadmill in good condition at lower prices compared to other stores. In some cases, the difference could be hundreds of dollars. We also negotiate with shipping companies to keep the prices of shipping our products at the lowest level possible. Thus, by buying a treadmill from Primo Fitness; you can be sure that you are going to save by up to 75 percent.
Save Time
At Primo Fitness, you can find many treadmills of different specifications and from different manufacturers. Thus, you don't have to drive from one store to other comparing prices; neither do you have to browse through the different manufacturers' websites to know what they have for you. All you have to do is get into Primo Fitness' website, browse through a plethora of used gym equipment for sale, and make your order. Wherever you are in the world, we will ensure that your treadmill is shipped to you within the shortest time possible.
Superior Customer Service
Over the years, Primo Fitness has built a reputation that has enabled it to attract some of the most decorated gym equipment experts. These professionals are committed to ensuring quality at all levels of service delivery. They are always ready to listen to you and offer their assistant to ensure that you get value for your money. You can contact them through different means including live chats and calls for inquiries about our products.
Convenient Shipping
Primo Fitness serves customer from around the worlds. To do this successfully, we work with reliable international shipping experts. Whether you are buying a single treadmill or you are buying in bulk; our logistics specialists will do all they can to secure the best shipping prices possible. They will stay in touch with you to make the necessary arrangement and ensure that your treadmill reaches you within the specified time.
The Takeaway
Overall, it is apparent that owning a treadmill can be a great decision if you want to stay fit. However, finding an affordable top-quality treadmill can be quite a daunting task. Luckily, you can find used treadmills still in good shape at Primo Fitness. This online store is known for its superior customer service and convenient shipping options. Shopping at Primo Fitness will also enhance your chances of landing a high-quality treadmill at the lowest cost possible. Get in touch with us today for more information our products and services.