Cybex Fitness Equipment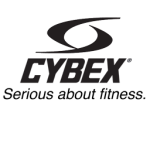 Cybex Fitness Equipment is a leading fitness manufacturer of premium exercise equipment designed to improve physical well being, function and performance. Based on a sports medicine and rehabilitation heritage, Cybex leverages its expertise in exercise science to provide innovative and technologically differentiated products and programs.
Cybex International produces premium commercial fitness equipment designed to deliver unparalleled results for exercisers from first-time users to professional athletes. The company's dedication to exercise science, through the Cybex Institute, leads the fitness industry in providing scientific basis for the development of exercise machines that enhance human performance. With over 90 patents, Cybex equipment is innovative in design, durable in structure and engineered to be biomechanically correct to produce optimum results with minimum stress on the body – this is the Cybex Advantage.
The company's offerings include a full array of strength and cardio training machines. Cybex manufactures the largest selection of strength training equipment in the industry with over 150 unique pieces including four complete lines of selectorized strength equipment plus modular, plate-loaded, free weights and Big Iron – a series of racks and benches for the most demanding workout. Cardio equipment includes a full line of treadmills and bikes plus the revolutionary Arc Trainer. The Arc Trainer is a unique offering in the elliptical category – capable of high intensity workout with low impact and scientifically demonstrated to reduce damage to the knees.
Cybex Fitness Equipment designs for customers who value performance and results – serving the needs of diverse market segments such as fitness clubs, YMCAs / JCCs, sports teams, colleges, military, country clubs, and workplace fitness facilities. The power of the Cybex brand makes it attractive for use in hotels & spas as well as upscale home gyms. A pioneer in the development of inclusive fitness, Cybex produces its Total Access line of products for individuals with physical disabilities.
The company is a US manufacturer with two state-of-the-art manufacturing facilities in the USA and a workforce of 560 employees. Cybex commercial products are sold domestically primarily through the Cybex direct sales force with light commercial and consumer products going through specialty fitness dealers. Internationally, Cybex products are sold through distributors in over 90 countries across the globe.
Over 20 years of worldwide success of our new and used gym equipment for sale. Experienced technicians in certified, pre-owned and custom-built refurbished ones. Outstanding reputation known because of our high-quality work and customer service. Contact us and let's discuss your needs today!
Showing 1–12 of 55 results