FreeMotion Fitness Equipment
About Free Motion Fitness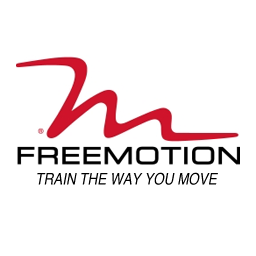 FreeMotion Fitness originated as a strength training equipment development company named Ground Zero Design. After twenty years of experience the business was eventually acquired by Icon Health & Fitnesss, a home fitness company, to establish it's commercial equipment division. Ground Zero quickly went to work and received patents for the innovation of a series of FreeMotion machines in early 2001. When the World Trade Center tragedy of 09/11/2001 occurred, Ground Zero Design promptly changed their name to FreeMotion Fitness out of respect for the victims and began establishing their new brand name.
With patents and a fresh brand in place, FreeMotion Fitness quickly began revolutionizing the strength training industry with it's line of integrated functional training equipment. Their innovated design, combining extensive cable travel and swivel pulleys, eliminated the constraints of one dimensional workouts, allowing users the freedom to "Train the Way (They) Move."
In recent years Freemotion designed and developed lines of cardio and strength equipment to meet the requirements of various fitness clubs. One example is FreeMotion's EPIC selectorized equipment which provides improved movement and aestically appealing design.
Freemotion has also developed a complete line of fitness cardio equipment plus the VertexVibration Platform which provides a unique way to approach total body training. For smaller clubs such as studios, corporate gyms, and home gyms Freemotion provides a compact solution in the Reebok Fitness line, including the Tomahawk Indoor Cycle.
Follow the link below to see some of the great FreeMotion Fitness equipment we currently offer.