Precor Fitness Equipment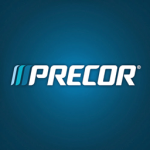 Founded in 1980 by industrial engineer David Cruz, Precor Fitness had a set goal to become worldwide leader in the home/commercial exercise equipment industry with an emphasis for superior quality, creative innovation, and overall performance.
For over 30 years, Precor has elevated the industry to new heights with a devoted concentration on ergonomics, physical science, and superior engineering. Precor Fitness progressed from their first product, the ergonomic rowing machine, to the first elliptical training machine, and recently the AMT (Adaptive Motion Trainer). Their focused studies allowed them to properly anticipate the demands of the consumers they serve, and continuously enhance the premium standards needed to deliver the most effective fitness experience.
Precor Fitness is now the brand name of choice for commercial gyms, hotels, spas, apt. clubhouses, and home gyms worldwide. Precor Fitness has received great reviews from fitness clubs such as, Gold's Gym, Anytime Fitness, and hotel chains like Hilton, Doubletree, Embassy Suites and plenty of others.
Over 20 years of worldwide success of our new and used gym equipment for sale. Experienced technicians in certified, pre-owned and custom-built refurbished ones. Outstanding reputation known because of our high-quality work and customer service. Contact us and let's discuss your needs today!
Showing 1–12 of 67 results