International Leader in Quality
Star Trac is proud to say they design their Fitness Equipment for all types of fitness enthusiasts. Their goal is to build fitness equipment for all levels of users.
Star Trac's complete line of fitness equipment includes the Pro Treadmill with built-in fans, distinctively designed upright/recumbent stationary bikes, elliptical crosstrainers that offer a natural stride, the exclusive bikes for Spinning, a dependable Stairclimber, three complete lines of selectorized strength equipment, multiple free weight pieces and Max Rack the most advanced power rack/smith machine combo, on the market.
Mad Dogg Athletics and Star Trac teamed up to promote the most popular Spin Bike name and designed the Spinning Bike education program. This partnership is highlighted by Star Trac building the patented Spinner Bikes while Mad Dogg Athletics supplies the Spinning educational programming.
Since introducing its first commercial fitness products in 1974, Star Trac has striven to be in the forefront of the industry, designing breakthrough products that set standards and establish new paradigms for fitness equipment.
Here are some great examples of quality Star Trac equipment:

Star Trac E-TBT Elliptical Crosstrainer – The total body Star Trac E-TBT Elliptical Trainer gives you the best of both worlds. The E-TBT integrates strength training along with your cardio workout.
At the push of a button the user can choose from a pushing or pulling upper body motion, working two distinctly different muscle groups. The upper body motion can even be disengaged for a focused lower body workout.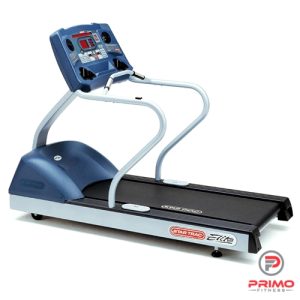 Star Trac Elite Treadmill – The Star Trac Elite Treadmill is a premium grade treadmill found in major gyms worldwide. The Star Trac Intelli Trac system gives the user an accurate display to track their progress throughout their workout.

Star Trac Pro Recumbent Bike – The Star Trac Pro Recumbent Bike with its step through design was built with the user in mind. The bike is perfect for all ages and fitness levels.
For the most comfortable workout possible the Pro Bike comes with an adjustable reading station, armrests to help alleviate tension in the shoulders, and a wrap-around seat adjust for simple position changes.

Star Trac E-ST Stepper – A stepper is a great addition to any gym and the Star Trac E-ST Stair Stepper is an excellent choice for any home or commercial gym to make. Gyms will love the status of having a top of the line stepper on their gym floor and their members are going to enjoy using it since it has less maintenance problems.
To offer a comfortable workout the Star Trac E-ST Stepper provides the user with a soft shock absorbing system to reduce the impact off their knees and lower back. The built-in fan keeps you cool even during the toughest workout.