Technology is evolving at a rapid pace and the fitness industry isn't immune to this trend. Technogym, as their name implies, prides themselves on their cutting edge gym equipment loaded with the latest technology. One of their defining models is their Tehcnogym Synchro 700 Excite elliptical crosstrainer. While there are many commercial grade elliptical on the market, Technogym separates itself from the pack with the latest in gym and entertainment technology.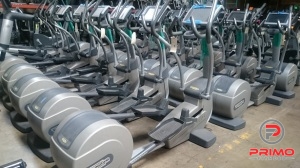 The Technogym Excite 700 elliptical is powered by a rear drive trajectory and belt driven system that ensures a smooth and impact-free movement which is the main draw of the elliptical. Treadmills are high impact machines and can put strain on the joints if used frequently, so an elliptical is a great low-impact choice for cardiovascular exercise. Compared to other elliptical crosstrainers, you'll notice that the two platforms where your foot rest are fairly close together. Technogym has designed the Excite 700 this way in order to ensure a natural posture.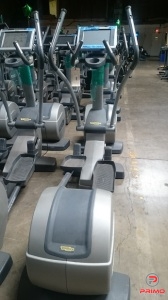 Technogym has also engineered their elliptical to be accommodating to users of all fitness levels. The difficulty level can be easily adjusted with the Fast Track Control which is independent from the display. The resistance levels are adjusted manually by two buttons on the elliptical. There are 25 different difficulty levels so any user can reap the full benefits of working out on this elliptical. The Technogym 700 Excite also comes with built in fitness programs such as quick start, CHR, training zone, weight loss and customizable profiles.
The display on our Synchro 700 Excite elliptical crosstrainers are the latest from Technogym. These consoles are fully touchscreen with a plethora of features and options. Most importantly, the display has all the essential readouts such as heart-rate and calories burned. There is a heart-rate monitor built right into the handgrip to track progress. This console is also Wellness compatible meaning that users can watch TV, control his/her iPod or even listen to the radio while working out.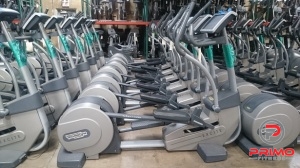 This is a top of the line cutting edge elliptical crosstrainer that not only delivers optimal performance but the latest in technology. We have a few of these units available for sale at the blowout price of $699. There is no more affordable option if you want a neat little touchscreen built into your commercial grade elliptical. The Technogym 700 Excite Synchro elliptical crosstrainer is a great choice for users of all levels.