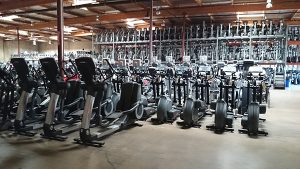 Buying used fitness equipment can be a great way to save money when you are building your home gym on a limited budget. With the high retail prices that fitness equipment is going for nowadays, you can save lots of money by buying used cardio and strength equipment. As with everything else that you purchase, make sure to do your due diligence when buying used fitness equipment.
Understanding the Terminology
With so much jargon used to describe fitness equipment such as "refurbished," "remanufactured," "as is," "serviced and cleaned," "pre-owned," "demo," "reconditioned" and more, it is important for the buyer to understand what the terms mean. It is your responsibility to ask the salesperson exactly what those words mean. Some used fitness equipment have had parts exchanged for new ones, some equipment have simply been cleaned and tested for proper function, and others are sold in the same condition they were acquired.
Research the Brand, Model, and Seller
Purchasing name brands will generally save you more money in the long run. I once purchased a new treadmill for a really cheap price from a rather unknown brand. I immediately noticed how fragile the frame was; I could hear it creek whenever I moved it around. I remember almost falling on my face while running on it because the belt felt like it was slipping, but later I found out it was the motor that was giving out. Now I know that I could have spent roughly around the same amount of money on a used quality name brand treadmill and still have it working to this day. Reputation of a brand goes a long way when purchasing something that you expect to be durable. Finding a reputable seller is also essential when shopping for fitness equipment. Go on review websites like Yelp to get a sense of what you will expect from the seller in terms of the quality of the equipment they sell and their prices..
Try Before You Buy
Avoid purchasing something just because you believe you are getting a good deal. You should always try out the equipment that you are buying. The salesperson should not be able stop you from getting on the treadmill you are interested in purchasing, walking on it and pushing all the buttons to make sure they work. It is your duty to make sure you are investing your money in something that will not end up unusable in a couple of months. If you are looking for longevity and durability, then a commercial grade fitness machine would be perfect for the rigorous day to day use that it was created for.
See These Machines and More at our Warehouse in Orange County, California
Local customers will enjoy walking in to browse our large collection of both used and new fitness equipment. We are happy to help those who need assistance deciding on the right equipment for their home or gym. International dealers, wholesalers and gym owners looking for the best prices and service are more than welcome to visit as well; we ship to all parts of the world. Our team members are prepared to help in putting together special gym packages that best suit their needs.
Come take advantage of our expert sales staff and their expertise with designing home and professional gyms with fitness equipment within your space and budget. Our team has over 100 years of combined fitness industry experience in all types of new and used gym equipment from repair and remanufacturing, to moving and installation, to what gear is best for your home, apartment complex or gym. You can also email us at Sales@PrimoFitnessUSA.com or call with any questions at (714) 957-2765. However, we encourage you to come in person and see one for yourself.
We are open Monday-Friday from 9-5, as well as Saturday by appointment only. Our friendly and informed staff are ready to help you in any way regarding fitness equipment. We serve local fitness enthusiasts and gym owners from all over Southern California, from Orange County, San Diego, Los Angeles – and beyond. Come on by!