Are you looking for an indoor bike that is low-price and durable? Well, fan-powered exercise bikes are just that. Thanks to their simple design and construction, fan-powered bikes typically rank at the low-end of the price range and can endure years of regular use, despite the low price.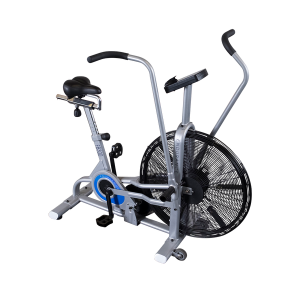 How do they work?
Unlike other indoor exercise bikes, fan bikes don't have push-button resistance, nor pre-programmed workouts. You are completely in charge of how much resistance you want to work with. The main difference-maker of a fan bike is that it gets its resistance from the wind. Resistance increases by how fast you pedal. The faster you pedal, the faster the fan blades spin and the more resistance they generate. Slow down and the fan blades automatically slow down too, easing off on the resistance. Another difference from its stationary contemporaries are the elliptical handles that the user moves back and forth while pedaling.
Benefits
Aside from the benefit of being able to burn calories, fan bikes create a circulation of self-sustaining flow of air throughout any room to keep the user cool while they exercise. The combination of pedaling and arm movement give the user a total body workout. The coordinated pushing and pulling action of the arms and the pushing action of the legs, combined with the air resistance from the fan, challenges your heart to pump blood to both upper and lower body regions. Fan bikes are also typically lighter in weight than the average exercise bike, which makes it easier to move. The simplicity of the fan bike makes it perfect for home use.
If you are interested in purchasing a fan bike, click on the links below to see the fan bikes we have in stock.
http://primofitnessusa.com/product/schwinn-ad2-airdyne-bike/
http://primofitnessusa.com/product/stairmaster-airfit-bike/
See These Machines and More at our Warehouse in Orange County, California
Local customers will enjoy walking in to browse our large collection of both used and new fitness equipment. We are happy to help those who need assistance deciding on the right equipment for their home or gym. International dealers, wholesalers and gym owners looking for the best prices and service are more than welcome to visit as well; we ship to all parts of the world. Our team members are prepared to help in putting together special gym packages that best suit their needs.
Come take advantage of our expert sales staff and their expertise with designing home and professional gyms with fitness equipment within your space and budget. Our team has over 100 years of combined fitness industry experience in all types of new and used gym equipment from repair and remanufacturing, to moving and installation, to what gear is best for your home, apartment complex or gym. You can also email us at Sales@PrimoFitnessUSA.com or call with any questions at (714) 957-2765. However, we encourage you to come in person and see one for yourself.
We are open Monday-Friday from 9-5, as well as Saturday by appointment only. Our friendly and informed staff are ready to help you in any way regarding fitness equipment. We serve local fitness enthusiasts and gym owners from all over Southern California, from Orange County, San Diego, Los Angeles – and beyond. Come on by!