A functional trainer is one of the best pieces of strength equipment for your fitness studio. It uses two cables and attachments enabling you to execute directional movements of your choice. A functional trainer allows you to have maximum control over your body while training. There are no limits to what you can do. It will enable you to perform exercises for arms, back, legs, chest, and shoulders. You may use it to perform bicep curls, shoulder press, upright rows, straight-arm pushdowns, any angle of chest press, cable squats, and leg raises. The following are some of the reasons why a functional trainer is perfect for you.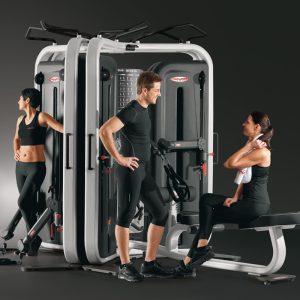 Cost-Effectiveness
Even though the initial buying price of the equipment may seem expensive, they may help you to save money. The fact that you can use them to train almost all parts of your body means that you may not have to buy other equipment. It is especially great for people that wish to train at home. It is great for exercise as a pastime or as a sport. With some practice, you may not need to pay anyone to assist you. You can safely use it to exercise on your own. It comes with pre-loaded weights, so you do not have to keep buying more.
Rehabilitation
If you are undergoing therapy for muscle rehabilitation, you may use a functional trainer. The machine is designed to aid exercises that therapists recommend for patients after injuries or loss of muscle strength.
Safety
If you are one of those people that are unable to enjoy the use of some equipment because of safety issues, this machine may offer you a solution. It is easy to use, and there is no risk of being overwhelmed by the weights. You move the pin to a weight that is appropriate for you and start working out. Its safety makes a wise addition to your home gym.
Variety

This machine provides you with a variety of options. You can perform plenty of exercises using them. If you are planning on buying just one machine, it is the best option because it allows you to perform exercises for all parts of the body. It is great for everyone regardless of their fitness goals. Functional exercises may involve elbows, hips, knees, ankles, hips, and shoulders. If you apply the exercises well, you reduce your chances of getting injured.
If you have not exercised in a long time, you should consult your doctor before you start using a functional trainer. Consult the opinion of your doctor if you have an illness, if you are expectant, or if you are any serious condition. Start slowly with exercises that use your body weight and progress slowly to add weights. After a while, you will notice changes and improvements in your ability to handle daily activities.
Contact Primo Fitness for high quality new and used gym equipment. The company has more than 20 years of making sales across the world. The technicians are certified, experienced, and professional. You may visit their office and check out some of the equipment in their showroom.