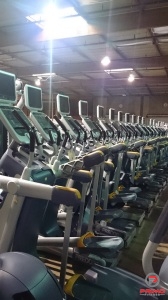 It has been nearly three weeks since New Year's and the resolutions have begun and it's almost a guarantee that many of them have been broken. The initial spark of motivation and the "New Year, new me" mentality is beginning to dull. Many have been discouraged by the crowds and lines at the gym which has put a halt to their weight loss journey. Another factor which may be hindering people on their fitness journey is the effort needed to get to the gym. If you find yourself making excuses because the gym is too crowded or parking is too hard to find, the best way to keep your resolutions is to buy fitness equipment for your home. "But that's way too expensive!" you might be saying. Not to worry because Primo Fitness is always looking out for people on their path to fitness. You'll be able get the exact same machines you'll use at the gym for a fraction of the price at our New Year's Resolution sale. We've highlighted a few pieces here.
Precor AMT 100i Elliptical Crosstrainer
We talk a lot about the Preocr AMT 100i on this blog and for good reason. It is basically a ridiculously versatile elliptical because it can adapt to different stride lengths on the fly. It's extremely popular at the gyms so that usually means there's a long line behind it. Unfortunately buying this machine brand new is probably not an option due to its retail price tag of $8,595. Fortunately, you can get this innovative machine in great working condition for only $2,199. That is 75% off the original retail price.
We've previously rated the Keiser M3 Plus Indoor Cycle as the best premium indoor cycle but luckily there's a great way to buy it without the premium price. If you want the basically brand new M3 Plus version, you'll still save a few hundred dollars with our price of $1395. If you like the bike and are perfectly fine with the handlebars in their default position, the amazingly cost effective way to own this premium bike is by purchasing the non-plus used Keiser M3 cycle for only $595.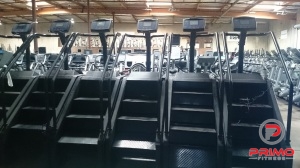 StairMaster 7000PT Blue Face Console Stepmill
We've previously reviewed this model, so feel free to read our take on the StairMaster 7000PT Blue Face Console Stepmill. In summary, it's a great machine for low impact yet high calorie burning cardio. You can get the Rocky workout right in the comfort of your own home for the bargain price of $1499!
These are just a few of the items we have on sale that will help you clear the path to your fitness goals.