Wholesale Gym Equipment
Buy our used gym equipment in bulk at a big discount. We can offer you wholesale pricing for large quantity purchases and great prices on single units. Our warehouse contains a wide selection of products:  treadmills, elliptical crosstrainers, recumbent and upright bikes, steppers, strength equipment and much more. Many of our items can be cleaned and serviced or remanufactured, prepared for resale. You may also buy our products in as-is condition for an even lower price. Every product we sell is in guaranteed working condition. All of our machines are commercial grade. While you're at it, check out our body composition monitor.
Leasing Program Available – Make monthly payments instead of everything upfront!
For all our latest offers, view our Current Sale
We can ship entire containers of used gym equipment anywhere in the United States and worldwide. We also welcome wholesale dealers to contact us.
You can also call us at (281) 972-9267 or email us at sales@primofitnessusa.com. If you are local to the Southern California area, you can also stop by our warehouse and view our used exercise equipment in person. Dealers are also welcome to contact us.
For special pricing on individual machines, please visit our Current Sales page.
Alternatively, you can also send your gym equipment wish list to sales@primofitnessusa.com.
Wholesale Packages (we can build a custom equipment package for you):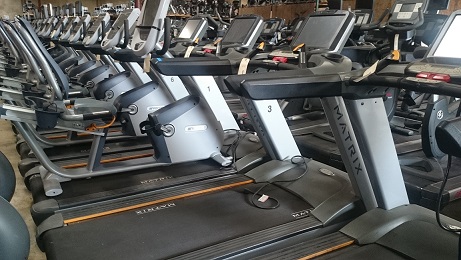 Matrix Wholesale Cardio Package (13 Pieces, all touchscreen): (2 Matrix X7e Ascent Elliptical, 1 Matrix X7e Elliptical, 5 Matrix T7Xe Treadmill, 5 Matrix 7x Recumbent Bike) 
Hammer Strength MTS Complete Gym Package (17 pieces) (Hammer Strength 9 Piece Strength Line, 4 Life Fitness 95T Inspire Treadmills, 2 Life Fitness 95X Inspire Elliptical, 1 Life Fitness 95R Inspire Recumbent Bike, 1 Life Fitness 95C Inspire Upright Bike)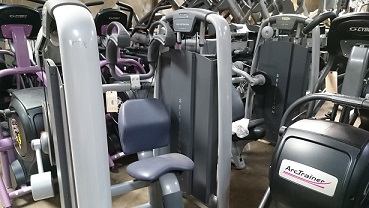 Technogym Selection Complete Gym Package (20 pieces) (Technogym Selection 8 piece strength line, 4 Life Fitness 95T Inspire treadmills, 4 Technogym Synchro ellipticals, 2 Technogym touchscreen upright bikes, 2 Technogym touchscreen recumbent bikes)  – Click link for pricing
Precor Icarian and 885 Cardio Gym Package(40 Pieces) (Precor Icarian 20 Piece Strength Line, 5 Precor 885 TRM Treadmills, 5 Precor 885 EFX Elliptical Crosstrainers, 5 Precor 885 RBK Recumbent Bikes, 5 Precor 885 UBK Upright Bikes)
Complete Gym Package 1 (34 Pieces) (Cybex VR2 14 Piece Strength Line, 10 Precor 956i Treadmills, 5 Precor AMT 100i Elliptical Crosstrainers, 5 Precor 576i Elliptical Crosstrainers) – Large Gym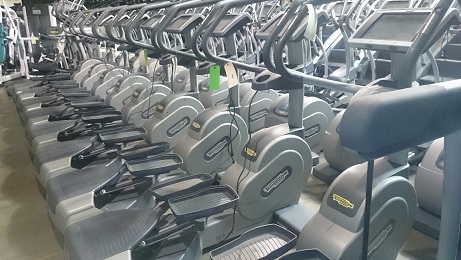 Technogym Complete Gym Package (29 Pieces): (10 Piece Technogym Selection Line, 5 Technogym Synchro Elliptical, 3 Technogym 700 Excite Recumbent Bike, 3 Technogym 700 Excite Upright Bike, 2 Technogym 700 Excite Stepper, 2 Technogym Wave, 3 Technogym Run Treadmill, 1 Technogym Excite Treadmill) 
Complete Gym Package 2 (11 Pieces) (FreeMotion Epic 7 Piece Strength Line, 2 Precor 956i Treadmills, 2 Star Trac Pro Recumbent Bikes) – Small Gym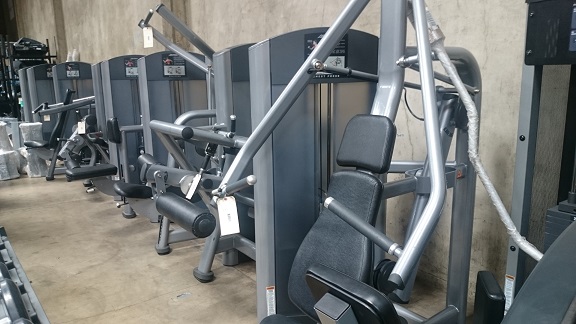 Complete Strength Lines (Hammer Strength, Life Fitness Signature, Cybex VR2, Precor Icarian, Technogym Selection, Etc.)  576i Elliptical Crosstrainers) – Large Gym
We have relationships and access to many suppliers. If we don't have something currently in stock, we may be able to get it for you. If you would like a large quantity of a certain piece of gym equipment, we may be able to obtain it upon request. There are also discounts for shipping entire container loads. Our inventory changes daily, so check back with us often.
Primo Fitness primarily deals in wholesale gym equipment so our warehouse and team are equipped to prepare and ship fitness equipment by the container load. We carefully package each machine to ensure that there are no damages during the shipping process. Our logistics team also has experience dealing with international customs so we know how to appropriately load your container to avoid delays at port.
We can send you our current inventory list with prices. If you like to be added to our dealer list, fill out the form below to receive updates. If you would like to make a wholesale purchase request, also fill out the form. We will try to respond within 24 business hours.
Our packaging is also extremely protective and we will ensure that your machines arrive in perfect condition. If you have any questions do not hesitate to email us at sales@primofitnessusa.com or call us at 714-957-2765. We can give you discounts on large purchases and match our competitors' prices on selected equipment.
Many people world over are opting to purchase gym equipment to either install at the residential houses or for commercial purposes. The resurgence in the purchase of gym equipment stems from the realization of the importance of exercising and keeping fit, which reflects on the wholesome general health of an individual.
Buying gym equipment can be costly, mainly when one is operating on a tight and fixed budget.
The secret of purchasing gym items has for a long time, been buying the equipment as a package, at wholesale prices. Wholesale prices are usually at more affordable and considerable rates compared to purchasing items at retail prices.
If you are looking to equip either a commercial gym or you are setting up a gym at your home, then consider buying your fitment equipment at wholesale.
Why buy wholesale gym equipment
Purchasing items at wholesale has its fair share of benefits, enabling the buyer to have the best deals. Below is a highlight of why you should consider purchasing wholesale exercise equipment:
Cost-effective option

– goods sold in bulk at wholesale are usually priced cheaper compared to buying individual items. One can save a lot of money when purchasing products in wholesale

Saves on time

– buying things on wholesale means that the goods will come as a package, compared to the time spend when buying individual items one by one.

A variety of items

– wholesale stores have an array of products to pick from, and one can select from the numerous brands, sizes, and different designs available on display. Some wholesale stores offer shipping or transportation services for goods purchased in bulk

Guarantee of genuine and original products
Buying goods fitness equipment on wholesale has numerous advantages to the buyer, as highlighted above.
The wholesale stores have experience and understand the customer needs, and one will be able to be guided and advice on the best deals and ideal gym equipment, whether setting up a new gym or equipping an already existing gym.
Wholesale gym equipment stores
Many stores are specializing in wholesale exercise equipment. One store that has maintained a reputable track record and has a history of customer satisfaction is Primo Fitness USA. The firm has all the gym equipment one can dream of, with all the famous and favorite brands represented.
The items available at Primo Fitness USA are at affordable and considerate prices, and one has the option of buying the lesser priced used gym equipment or buying brand new equipment, all at fair prices. Primo Fitness USA has other payment arrangements available for customers when purchasing wholesale home gym equipment. The offers include the Leasing program where the buyer can make monthly payments for the gym equipment upfront.
If you are looking to purchase fitness equipment at a wholesale, then consider checking out the incredible deals available at Primo Fitness USA. The store can also ship the gym equipment to any state in the United States or anywhere else in the world.