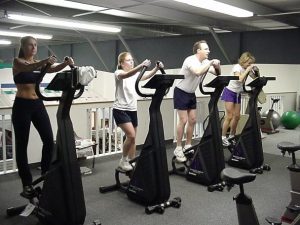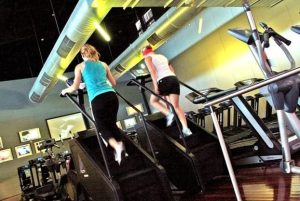 The Stepper and Stepmill were both introduced to the world by the StairMaster company, they both allow you to mimic walking up steps, they both are cardio machines that workout your lower half including the quadriceps, buttocks and hamstrings, but they have different names because they ARE different.
Differences
There is a difference in price. The Stepmill is typically more expensive than a Stepper due to its more intensive construction. A Stepper has two pedals that move downward in alternating fashion when you place your feet on them. The Stepmill has a staircase that collapses in a downward motion as you walk up on it. A Stepmill covers more space than a Stepper. That is one of the reasons why you tend to see more Steppers than a Stepmill at gyms. I've seen Steppers at people's homes, but never a Stepmill.  With a Stepper you are involved in repetitive motion, while with the Stepmill you can walk up the staircase going forward, backward or sideways.
If you are interested in purchasing a Stepper or Stepmill, click on the images below to check out what we have in stock.
See These Machines and More at our Warehouse in Orange County, California
Local customers will enjoy walking in to browse our large collection of both used and new fitness equipment. We are happy to help those who need assistance deciding on the right equipment for their home or gym. International dealers, wholesalers and gym owners looking for the best prices and service are more than welcome to visit as well; we ship to all parts of the world. Our team members are prepared to help in putting together special gym packages that best suit their needs.
Come take advantage of our expert sales staff and their expertise with designing home and professional gyms with fitness equipment within your space and budget. Our team has over 100 years of combined fitness industry experience in all types of new and used gym equipment from repair and remanufacturing, to moving and installation, to what gear is best for your home, apartment complex or gym. You can also email us at Sales@PrimoFitnessUSA.com or call with any questions at (714) 957-2765. However, we encourage you to come in person and see one for yourself.
We are open Monday-Friday from 9-5, as well as Saturday by appointment only. Our friendly and informed staff are ready to help you in any way regarding fitness equipment. We serve local fitness enthusiasts and gym owners from all over Southern California, from Orange County, San Diego, Los Angeles – and beyond. Come on by!