Precor 100i – Adaptive Motion Trainer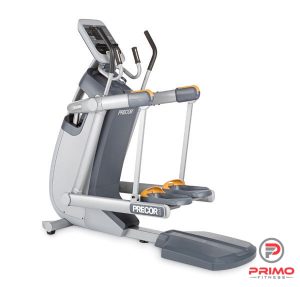 Precor has raised the Fitness Bar up a notch with the all new Precor AMT Elliptical Cross-Trainer. The Precor AMT takes elliptical training to an all-new level. The Precor AMT makes use of the user's natural body motion to adjust the stride length and motion without the user needing making any adjustments to the machine.
With the dual action arms the Precor AMT Elliptical offers total control of upper body and lower body resistance, providing a customized workout. For the first time the Precor AMT Elliptical gives the user the immediacy, variety, and natural feeling of running outdoors and allows you to customize your stride length and resistance at any time during the work out.
What makes the Precor AMT 100i so popular is the ability for the user to alter their work-out at their slightest whim, no two work-outs are ever the same. This keeps your mind engaged and your body torn between wanting to experiment with new movements and needing a second to catch your breath.
Precor AMT 100i Features Summary:
Unique commercial-quality cardio and muscle toning trainer allows you to adapt to your movement on the fly

Contra lateral arm movement for natural motion reflecting the way you naturally move

0- to 27-inch stride length; 4 programs including fat burner, heart rate control, interval and manual

Handheld heart rate monitoring with compatibility for wireless monitors


350-pound maximum user weight
Precor AMT Customer Review:
I took the plunge and bought this trainer for my home gym. I have tried numerous machines and found that most ellipticals have a few drawbacks. They are great for reducing impact, compared to a treadmill, but usually constrain movement to a fixed motion. Other than being able to vary the stride length a couple of inches on a few models, they all have exactly the same motion, over and over. It was difficult to find one that fit my gait, and at the same time be suitable for my wife who is only 5 feet tall. Actually impossible would be a better description.
This machine is unique, and should be in its own class of truly variable elliptical training. The stride can be ANYTHING you make it; from stepping to full running gait to a pedaling stride. It even allows a backward pedal stride if you want to really mix up the routine. The machine doesn't control the gait. You do, and you can vary it any time without touching any electronic controls. You'll need to try it to really understand.
Very highly recommended!
An actual Precor 100i AMT Customer