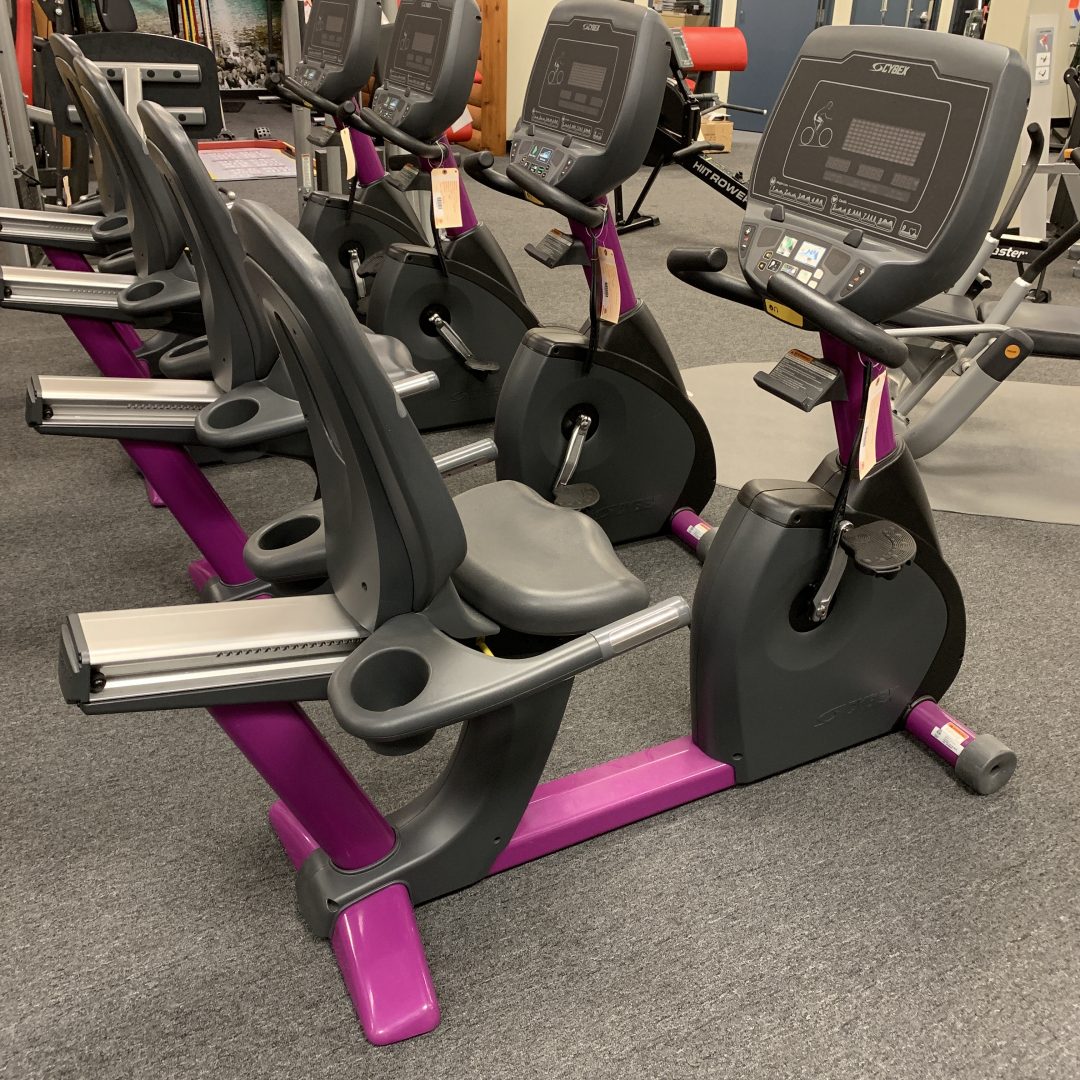 You may have heard of the upright bike, the traditional indoor bike that many people have in their home or use at the gym. However, a new take on the indoor bike, the recumbent bike, has recently become popular. 
What are the differences between a recumbent bike and an upright bike?
With a recumbent bike, the user's body sits into the bike frame as opposed to an upright bike where the user sits above the frame. The user of a recumbent bike will also be more comfortable. They are placed in a natural reclined position, which reduces body fatigue and eliminates muscle soreness in the upper body because they aren't hunched over the machine. The seats between the two stationary bikes also differ.  The recumbent bike seat is much larger and allows the user to sit comfortably like they would in the average office chair.
Which Bike Burns More Calories?
While there are many differences between upright and recumbent stationary bikes, they are similar in how many calories can be burned. How many calories you burn depends not only on the exercise machines you use, but for how long, and on which settings. 
Each bike does have benefits that will be enticing depending on your fitness goals. However, both will provide the same weight loss potentials. It really does all come down to what you're willing to put into your workout and how hard you want to work. You can decide which bike will be best for you by looking at the benefits of a recumbent bike. 
The benefits of working out on a recumbent bike
When you're looking for recumbent bikes for sale, you'll want to keep in mind the key benefits of this type of stationary bike. Here are the top feature benefits of working out on a recumbent bike. 
Lumbar Spine 
Recumbent bikes are easy on the lower back due to the positioning of the body supported by the bike. An upright bike has the user hunched over the handlebars while a recumbent bike encourages correct spinal posture. Hunching eventually leads to back pain and can even negatively impact natural posture.  It's important when you're working out to maintain the correct posture that you get from the recumbent bike. 
Gentle on Joints
Recumbent bikes are gentle on all of the joints. Because a large seat supports the lower back and your knees and ankles are protected from impact, you'll feel a more fluid movement when you bike. 
Comfort
This type of bike is more comfortable than its upright counterpart. The larger seat is a popular feature because it produces a more comfortable workout position. The upright bike has a small seat which can often be uncomfortable for users. 
Safety
Recumbent bikes are generally safer than uprights. You're unable to stand on the pedals, something that many upright bike users to do get a more intense workout. However, this can cause injuries, so the elimination of this feature promotes safety on the machine. 
Low Impact
Recumbent bikes are low impact and reduce the risk of pain while still being able to build strength and burn calories. For those with rheumatoid arthritis, this type of indoor bike can be easier to use because of the reclining position that allows your weight to be more evenly spread over the back and buttocks. 
The health benefits of using a recumbent bike
While many benefits come from the design of the bike, you must also consider your fitness goals. Recumbent bikes offer these health benefits:
Cardiovascular
Recumbent bikes offer great aerobic exercises that use some of the largest muscle groups, such as quadriceps, hamstrings, legs, and glutes. Those who do regular cardio see an increase in their heart and lung function, a decrease in blood pressure, and a decrease in lung disorders. Because the recumbent bike is low impact, it's easy for those of all skill levels and allows you to get a great workout that's comfortable at the same time.  
Muscle Strengthening
These indoor bikes put your position in a different physical location than an upright bike. This position allows you to use your thighs, lower legs, and glutes in the same way, but from a different position. This allows for a different type of strengthening of the effect. Spending time on both types of bikes can give you a similar but different type of workout using the same muscle groups. 
Balance
The lower position of the recumbent bike offers stability and balance that some might not get from an upright bike. This balance allows you to get a more effective workout that correctly and directly targets certain muscle groups evenly. 
Workout sustainability
Because recumbent bikes offer so many comfort and support benefits, it is more easy for the user to sustain their workout and workout for longer periods of time. These bikes are inviting, so it makes the user more likely to return and get the health benefits they deserve from hard work. The more you're able to work out because you look forward to working out, the better your overall results will be. 
Who are recumbent bikes ideal for?
Recumbent bikes are perfect for any type of user no matter the level of experience. However, those will mobility problems, or back pain will find that this machine provides benefits that other workout equipment cannot. These bikes are easy to get on and off because of the low seat. This means that there is no climbing onto the bike. The back support on the recumbent bike also helps those with back pain because it offers another level of support that they need to maintain the correct posture.