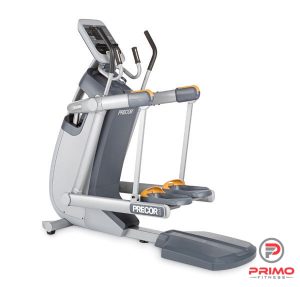 Ellipticals have been a staple in gyms since they came out in the 1990's, but recently a more advanced cardio machine similar to an elliptical has taken over. Precor's Adaptive Motion Trainer (AMT) is everything an elliptical is and more.
What Does it do?
The AMT is a self-generating machine that turns on only when in use. The AMT adapts to your body motion whether you are walking or running. The platforms follow your feet in whatever direction you want them to go. You're not on any particular track, so you're not bound on a pre-determined ellipsis as you would be on a traditional elliptical machine; you can use it in a stair-master type way if you like, and you can even kick your feet up behind you to really work your hams and glutes. It's totally responsive! The AMT blends the benefits of a treadmill with the low impact motion of an elliptical. This is why the AMT is considered to be a combination of a treadmill, stepper, and elliptical machine.
A Total Body Workout
The AMT's versatility of motion and resistance make it a great option for all types of exercises. The AMT has several pre-programmed workouts that can be selected for a full-body resistance training circuit. You can also select Quick Start button and use the manual adjustments to increase the stride length and resistance until it fits your individual abilities. During your cardio work you can utilize the backward motion of your foot pedals to switch up the muscle groups being used. You can also incorporate pushing and pulling movements by using your arms.
The AMT is more than just a cardio machine. You can set up the machine to transition from striding to resistance training moves like squats, single leg curls, and leg raises. You can even incorporate upper body strength and core training into your workouts by placing your hands on the foot pedals to do push-ups or to create a plank while staying balanced at the same time since the foot pedals will move if too much pressure from one side is applied. The AMT will pause automatically to allow time to complete your resistance moves. Your pause time can be adjusted up to 300 seconds. All of these exercises help to improve overall strength in your larger muscle groups. As you can see, the AMT is a stand-alone total body workout machine.
Click on the image below to see all of our AMT's in stock.
See These Machines and More at our Warehouse in Orange County, California
Local customers will enjoy walking in to browse our large collection of both used and new fitness equipment. We are happy to help those who need assistance deciding on the right equipment for their home or gym. International dealers, wholesalers and gym owners looking for the best prices and service are more than welcome to visit as well; we ship to all parts of the world. Our team members are prepared to help in putting together special gym packages that best suit their needs.
Come take advantage of our expert sales staff and their expertise with designing home and professional gyms with fitness equipment within your space and budget. Our team has over 100 years of combined fitness industry experience in all types of new and used gym equipment from repair and remanufacturing, to moving and installation, to what gear is best for your home, apartment complex or gym. You can also email us at Sales@PrimoFitnessUSA.com or call with any questions at (714) 957-2765. However, we encourage you to come in person and see one for yourself.
We are open Monday-Friday from 9-5, as well as Saturday by appointment only. Our friendly and informed staff are ready to help you in any way regarding fitness equipment. We serve local fitness enthusiasts and gym owners from all over Southern California, from Orange County, San Diego, Los Angeles – and beyond. Come on by!